P.J. Tracy
When:
September 14, 2017 @ 6:30 pm – 7:30 pm
2017-09-14T18:30:00-05:00
2017-09-14T19:30:00-05:00
Where:
Chanhassen Public Library
7711 Kerber Blvd
Chanhassen, MN 55317
USA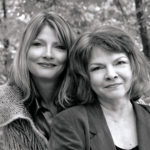 Thursday, September 14 at 6:30 PM
Chanhassen Public Library
7711 Kerber Blvd, Chanhassen
P.J. Tracy is the pseudonym of mother-daughter writing duo Patricia (P.J.) and Traci Lambrecht, authors behind the internationally bestselling Monkeewrench mystery series. Set right here in the Twin Cities, the Monkeewrench novels center around a group of computer geniuses who split their time between software engineering and a much less prosaic pastime: helping authorities solve Minnesota's seemingly unsolvable crimes. P.J. Tracy's debut, Monkeewrench (2003), earned the Lambrechts the prestigious Anthony and Barry Awards for Best First Mystery Novel, as well as the 2014 Minnesota Book Award for Popular Fiction. Subsequent installments – Live Bait (2004), Dead Run (2005), Snow Blind (2006), Shoot to Thrill (2010), and Off the Grid (2012) – firmly established P.J. Tracy as a murder mystery mainstay. Their seventh, The Sixth Idea, will be released in paperback in June. Nothing Stays Buried, Traci Lambrechet's newest Monkeewrench thriller – and the first since the passing of her mother P.J. in 2016 – was released in August.
[box type="whitestroke" pb_margin_bottom="no" width="1/3″ el_position="first"]
[/box] [box type="coloured" pb_margin_bottom="no" width="2/3″ el_position="last"]
[/box] [impact_text include_button="yes" title="Download Podcast" href="https://clubbook.org/podcasts" color="lightblue" size="large" type="slightlyroundedarrow" target="_blank" position="cta_align_bottom" border_top="yes" border_bottom="yes" width="1/1″ el_position="first last"]
A podcast of Tracy's Club Book discussion will be available a few days after the event!
[/impact_text]