Lucie Amundsen
When:
September 26, 2016 @ 7:00 pm – 8:00 pm
2016-09-26T19:00:00-05:00
2016-09-26T20:00:00-05:00
Where:
Rum River Library
4201 6th Ave
Anoka, MN 55303
USA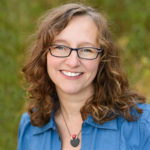 Monday, September 26 at 7 PM
Rum River Library
4201 Sixth Ave, Anoka

Lucie Amundsen is a self-described 'reluctant farmer' and co-owner, with her husband Jason, of Locally Laid Egg Company, a ranch enterprise in Duluth that supplies pasture-raised eggs to markets in Minnesota, Iowa, and Indiana. Amundsen holds an MFA from Hamline University and is a past contributor to the Star Tribune and Reader's Digest Association. When this plucky couple – with no real agricultural experience between them – decided to leave their professions to start up a mid-sized chicken farm, Amundsen applied her considerable writing talents to a part-memoir, part-exposé about the experience. Kirkus Reviews recommends Locally Laid highly, stating: "The author's skepticism and her husband's optimism collide to create a laughable tale." Behind the humor, however, Amundsen reveals some alarming truths about today's egg and poultry industry, along with insights on what we can all do to turn the situation around.
[box type="whitestroke" pb_margin_bottom="no" width="1/3″ el_position="first"]
[/box] [box type="coloured" pb_margin_bottom="no" width="2/3″ el_position="last"]
[/box] [impact_text include_button="yes" title="Download Podcast" href="http://clubbook14.org/podcasts/" color="lightblue" size="large" type="slightlyroundedarrow" target="_blank" position="cta_align_bottom" border_top="yes" border_bottom="yes" width="1/1″ el_position="first last"]
A podcast of Lucie Amundsen's program will be available a few days after the event!
[/impact_text]