Lara Prescott
When:
November 12, 2019 @ 7:00 pm – 8:00 pm
2019-11-12T19:00:00-06:00
2019-11-12T20:00:00-06:00
Where:
Saint Paul Public Library – Saint Anthony Park
2245 Como Avenue
Saint Paul, MN
55108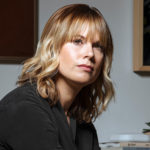 Tuesday, November 12 at 7 PM
Saint Paul Public Library – Saint Anthony Park
2245 Como Avenue, Saint Paul
Lara Prescott belongs to the small, exclusive club of authors who have had their work optioned for film. While this is an impressive accomplishment on the face of it, still fewer writers can claim to have reached this milestone before their first book even hit shelves! Prescott's highly anticipated literary debut, The Secrets We Kept, premieres September 3. It tells the true story behind the writing and incendiary publication of the Cold War era novel Doctor Zhivago. Now a mainstay of the Russia's literary canon, Doctor Zhivago is a tale of life and love set during the Russian Revolution. Penned by controversial Soviet national Boris Pasternak, the manuscript was smuggled to Italy in the 1950s. Prescott's retelling is already receiving rave reviews. In a starred review, Booklist opined: "Spy stories offer high reader appeal, but Prescott's debut far surpasses the typical genre fare…Through extensive research, Prescott artfully illuminates the CIA's role in helping disseminate the Soviet-banned masterwork." The Secrets We Kept will debut in a staggering 28 languages. A film treatment, helmed by Oscar-nominated producer of La La Land and Bridge of Spies, is now in the works.
[box type="whitestroke" pb_margin_bottom="no" width="1/3″ el_position="first"]
[/box] [box type="coloured" pb_margin_bottom="no" width="2/3″ el_position="last"]
[/box] [impact_text include_button="yes" title="Download Podcast" href="https://clubbook.org/podcasts" color="lightblue" size="large" type="slightlyroundedarrow" target="_blank" position="cta_align_bottom" border_top="yes" border_bottom="yes" width="1/1″ el_position="first last"]
Prescott's Club Book discussion will be available a few days after the event!
[/impact_text]