Edward Kelsey Moore
When:
November 14, 2017 @ 7:00 pm – 8:00 pm
2017-11-14T19:00:00-06:00
2017-11-14T20:00:00-06:00
Where:
Rondo Community Library
461 Dale St N
St Paul, MN 55104
USA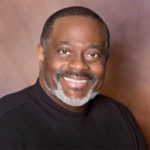 Tuesday, November 14 at 7 PM
Saint Paul Public Library – Rondo Community Library
7461 Dale Street North, Saint Paul
Edward Kelsey Moore is the pen behind 2014's breakout hit The Supremes at Earl's All-You-Can-Eat. Moore's debut follows three life-long friends – dubbed "The Supremes" while in high school – as they navigate four decades of life's challenges. It garnered Moore a Best First Novel Award from the American Library Association – Black Caucus, among other high honors. The Supremes also boasted an impressive run on The New York Times Bestseller List, and has been optioned by Fox Searchlight Pictures for a motion picture. His anticipated follow-up, The Supremes Sing the Happy Heartache Blues, hit shelves in June. Odette, Clarice and Barbara Jean are back in this sequel adventure that BookPage lauds as "an uplifting read which tugs at readers' heartstrings and elicits enthusiastic chuckles in equal measure… sure to satisfy fans while welcoming new ones to the fold with open arms." In addition to his career as a novelist, Edward Kelsey Moore is also a nationally renowned cellist and accomplished music essayist.
[box type="whitestroke" pb_margin_bottom="no" width="1/3″ el_position="first"]
[/box] [box type="coloured" pb_margin_bottom="no" width="2/3″ el_position="last"]
[/box] [impact_text include_button="yes" title="Download Podcast" href="https://clubbook.org/podcasts" color="lightblue" size="large" type="slightlyroundedarrow" target="_blank" position="cta_align_bottom" border_top="yes" border_bottom="yes" width="1/1″ el_position="first last"]
A podcast of Moore's Club Book discussion will be available a few days after the event!
[/impact_text]