Allen Eskens
When:
November 8, 2017 @ 7:00 pm – 8:00 pm
2017-11-08T19:00:00-06:00
2017-11-08T20:00:00-06:00
Where:
Prior Lake Library
16210 Eagle Creek Ave SE
Prior Lake, MN 55372
USA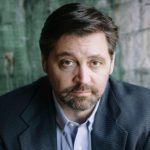 Wednesday, November 8 at 7 PM
Prior Lake Library
16210 Eagle Creek Ave SE, Prior Lake
Lawyer-turned-novelist Allen Eskens burst onto the thrillers scene in 2014 with his "compulsively suspenseful" (Bookpage) mystery The Life We Bury. This literary debut won the former defense attorney the genre's prestigious Barry Award, the Rosebud Award for Best First Novel – and put him in contention for an Edgar Award, an Anthony Award, and half a dozen others. The Life We Bury has since been published in sixteen languages and optioned for a feature film adaptation. Eskens' follow-ups, The Guise of Another (2015) and The Heavens May Fall (2016), follow some of the same characters. The latter won the 2017 Minnesota Book Award for Genre Fiction. Eskens' newest book, The Deep Dark Descending, debuts in October. It centers around homicide detective Max Rupert – a protagonist already known to Eskens fans – as the veteran cop struggles to balance his professional integrity with a desire for personal vengeance after the shocking revelation that the hit-and-run accident that killed his wife was no accident after all.
[box type="whitestroke" pb_margin_bottom="no" width="1/3″ el_position="first"]
[/box] [box type="coloured" pb_margin_bottom="no" width="2/3″ el_position="last"]
[/box] [impact_text include_button="yes" title="Download Podcast" href="https://clubbook.org/podcasts" color="lightblue" size="large" type="slightlyroundedarrow" target="_blank" position="cta_align_bottom" border_top="yes" border_bottom="yes" width="1/1″ el_position="first last"]
A podcast of Esken's Club Book discussion will be available a few days after the event!
[/impact_text]